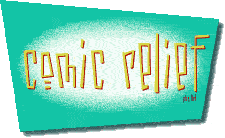 MURRAY FAHEY - Biography
COMEDIAN, DIRECTOR, WRITER, PRODUCER
Murray is one of Australia's finest improvising Comedians. He has won the National championships as well the Cranston Cup seven times.
Murray began his career in film as an actor performing in numerous Australian feature films and mini series. He won a Penguin Award for BEST SUPPORTING ACTOR in a TV series Special Squad.
He has worked as a Performer, Theater Director and writer in Melbourne and Sydney. Internationally he has performed at the Last Laugh, Chicago Second City (US) and Boom Chicago (Amsterdam), Comedy Store (LA), Laugh Factory (LA) and TheatreSports NY & LA.
Murray has performed or directed in the seasons of Scared Scriptless, The Impro Club, Gilligan's Improvised Island, The Silly Season of Comedy, Festival of Sydney Cup, Off The Cuff and Completely Lost in Space.
He is a graduate from the Australian Film Television and Radio School.
In television his credits as a Producer/ Director/or Writer include SCARED SCRIPTLESS, FIVE MINUTE MOVIES, the late night TV comedy THE ELEVENTH HOUR, CLIPTOMANIACS and THE REAL ELECTION for Network Ten.
On film, Murray has Produced and Directed everything from video clips to feature films. His work includes THE MINDER, THE FIRST KISS, A PEACE OF CAKE (Commendation International Animation Festival Portugal), PRIVATE THOUGHTS, and SQUEEZE (3rd prize 1999 TropFest) As a producer JUMPING THE GUN (LA, New York and London Festivals) and PALACE CAFE (1993 Chicago Film Festival Best of the Festival).
Murray Wrote, Produced and Directed the feature films: GET AWAY, GET AWAY, (a comedy road movie); ENCOUNTERS (a psychological Hitchcock-style thriller. Screened at the 14th Brussels Mystery and Suspense Festival); SEX IS A FOUR LETTER WORD (a love in the ninety's comedy about love, lies and lust. World premier at Montreal Film Festival. Screened at Boston, Seattle, Chicago and Puerto Rico Film Festivals); DAGS (an outrageous Oz cult comedy feature film. Now a sitcom for Channel Ten and Fox Television Australia).
Recently he co-produced the feel good feature A CHANGE OF HEART. And directed the feature film Cubbyhouse starring Joshua Leonard from The Blair Witch Project.