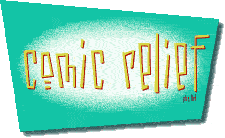 NEWS:
OFF THE CUFF
TO OPEN AT THE GAELIC THEATRE JUNE 10

Comic Relief Productions.
The experts in Comedy, Improv, Standup, Cabaret, Corporate Entertainment and Training in Australia. For the past ten years we have made it our business to make you laugh.
OFF THE CUFF is an improvised comedy show where Australia's best improvisers use real news headlines and audience suggestions to create comedy sketches.
Set as a mock current affairs show, the OFF THE CUFF news team parodies the events of today and tomorrow. Using real stories from newspapers, magazines, TV and audience, the panel of three comedians and a special guest, improvise comic a send-up of the news, sports, fashion, and social issues!
Starring Australia's best Improv comedians:
REBECCA DE UNAMUNO (winner of the World Improv Championship and Best Performer Montreal Just for Laughs Festival 2001, ABC TV The Glass House, Channel 9 Comedy Inc. Channel 7 Kath & Kim);
MURRAY FAHEY (Chicago 2nd City, Comedy Store LA & Sydney, 8 times Theatresports Cranston Cup winner "Improv comic genius" - Edinburgh Herald);
MARKO MUSTAC (
Mockbeth, 3 Radicals Edinburgh Festival, Jerk Central, 4 times Cranston Cup Winner).
Special Guests include:
JAY LAGAAIA - (Play school, Water Rats, Lion King) June 10;
GARY ECK –(Channel 9 The Nation, Funniest Home Video)July8
CAMERON KNIGHT – (Comedy Channel Stand Up Australia) August 12 TBC
CALE BAIN - (Canadian Impro Superstar) October 14;
LEHMO - (MMM Will & Lehmo show) September 9. TBC
You will laugh riotously as the panel of comedians take their gloves off and slog it out joke for joke, ad-libbing for laughs in stand up routines and comedy sketches.
WE DON'T READ THE NEWS, WE MAKE UP THE NEWS